The meeting of the International Virtual Observatory Alliance (IVOA) will take place in DOT on October 11-13, 2019 in Groningen. Please note that registration for IVOA is separate from registration for ADASS. The IVOA maintains an IVOA Interoperability meeting wiki page where you can find up to date information.
Questions about logistical information IVOA: IVOA2019@astron.nl
Venue
The IVOA Interop meeting will be hosted by the DOTliveplanetarium theater located in the center of Groningen. DOTliveplanetarium Groningen is a 3D full-dome theater equipped with cutting edge visualization technology and facilities that can accommodate conferences, exhibitions, concerts, and a variety of other public events. The conference sessions will be held in the main theater hall that has a capacity of 260 seats.

Location
DOTliveplanetarium Groningen is located slightly northeast of the historical city center with quick access to a large shopping mall, several bus routes and the beautiful Noorderplantsoen park.
DOTliveplanetarium Contact Information
Vrydemalaan 2, 9713 WS
Groningen, The Netherlands
Tel: +31 50 2112514
Email: informationuniverse@rug.nl/a>
Directions
To find out how to reach the city of Groningen go to the Travel section on the website.
If you arrive in Groningen at the central train station, you can quickly get to DOTliveplanetarium Groningen by hopping on bus # 1,3,4 or 5 and getting out at "UMCG Noord". The central bus station is located right next to the train station. See the map below to get from "UMCG Noord" to DOTliveplanetarium Groningen. You can also use the Journey Planner (available in English) to find the most convenient way to get to DOTliveplanetarium Groningen with public transport.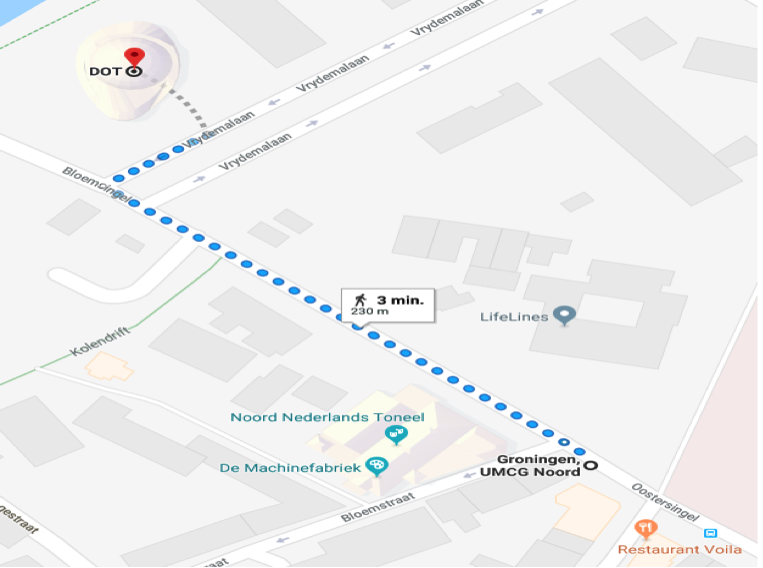 Directions from the DOT to the Student Hotel (click on image for a larger version):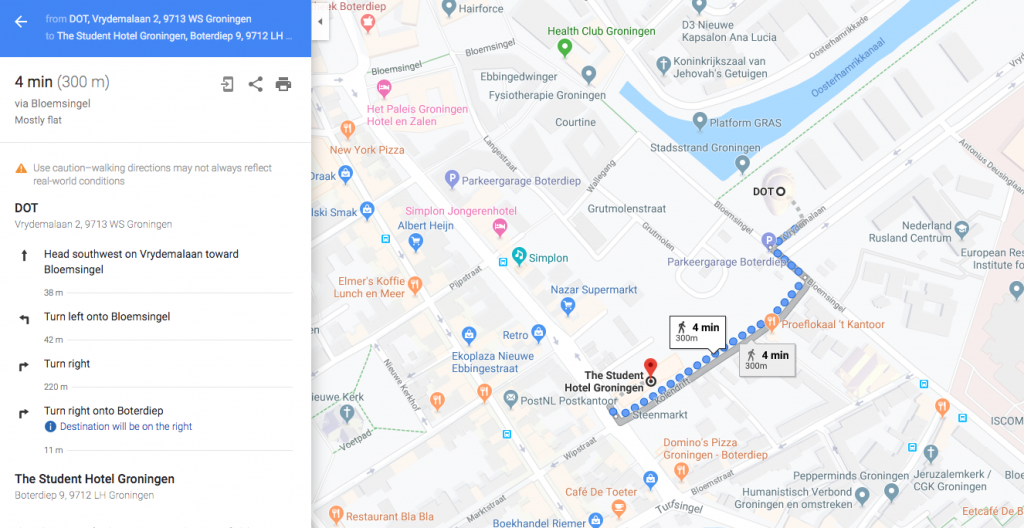 Parking
Parking is available across the street from the venue at the Boterdiep parking garage.
Travel
It is strongly advised for ADASS2019 and IVOA participants to book their hotel before 1 August 2019 via this web link provided by the Groningen Congres Bureau.
You can find all information about the hotels and the prices in this PDF. The Apollo and Mercure hotels are very close to the ADASS2019 conference venue, MartiniPlaza. The other hotels are located in Groningen city centre, closer to the IVOA DOT venue.
Questions and changes hotel booking
The Groningen Congres Bureau can only assist if hotel bookings will be made or have been made via the above web link. Changes and cancellations will be dealt with by the Groningen Congres Bureau, so not directly with the hotel. For all questions about your hotel booking, changes and cancellations please contact the Groningen Congres Bureau:
Phone +31 (0)50 31 68 877
Email: info@gcb.nl
Telescope and ASTRON Tour
Participants of the ADASS and IVOA can join a very interesting telescope tour to two world-class radio telescopes on Thursday afternoon 10 October:
WSRT – Westerbork Synthesis Radio Telescope and LOFAR – Low Frequency Array.
Participants are requested to register for the telescope tour in case they wish to join. Payment for the IVOA participants can be done by cash at the venue. (If registered for ADASS and have already completed this field in the ADASS registration form, you do not need to it again).
More information about the tour: here